| | |
| --- | --- |
| | |
| Projects > PersonalMapsInteractionsWithUrbanSpaces | |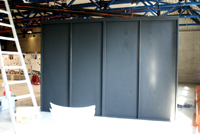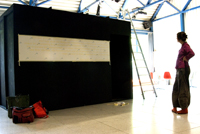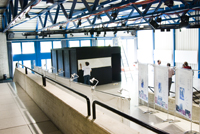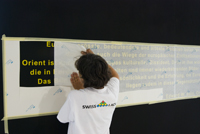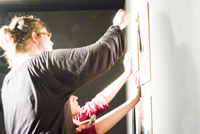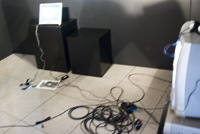 Personal Maps_Interactions with urban spaces



A black box project curated by transitpassengers
Participating artists: Amirali Ghasemi, Huma Mulji, Jinoos Taghizadeh, Khosrow Hassanzadeh.
In the context of the Winterthur theater festival 'die tausend und zweite nacht' also called the 'Orientwoche', Personal maps_Interactions with urban spaces is an enclosed space in the middle of the Bazaar that challenges the visitor's representation of the 'Orient'. The 'Orient' as an exotic entity the West is raving about is nowadays an agglomeration of rapidly changing countries all part of a globalised economy and culture, with expanding overcrowded, buzzing urban centres where life is just like urban life in any other part of the globe [concrete, crossings, market places, queues, public transports, isolation in the crowd, mass consumption, growing energy needs, stress, meeting points, encounters, change, conflict] and where, beyond socio-political contexts, people share the same human essence and existential concerns as anywhere else [aspirations, dreams, hopes, love, nostalgia, confusion, resistance to change, memories, communication issues, loneliness, fear, anger].
The works of Amirali Ghasemi, Huma Mulji, Jinoos Taghizadeh and Khosrow Hassanzadeh all express very personal ways of interacting with cities. Ghasemi's coffee shop ladies challenge our representation of women in Iran: their going to coffee shops is like an act of resistance, a way of taking over a space where they are not expected in the first place. Mulji's audio piece is an encounter with Lahore: People are giving the artist directions, each of them with their own map of the city in mind and their own will to be helpful. Taghizadeh's work is also about taking over public space and claiming the streets in a strong engaged way, giving back to the people a sense of their own culture, sharing with them a poet that counts and has been forsaken from entering the city. In his video statement, Hassanzadeh's expresses his willingness to extend his gaze beyond his own urban environment to look at a West which does not seem to be willing to be looked at!
Our thanks to: Amirali Ghasemi, Huma Mulji, Jinoos Taghizadeh, Khosrow Hassanzadeh, Susanne Wintsch (Treibsand) and Elika Djalili for their trust and collaboration.