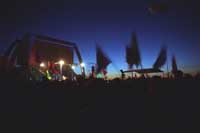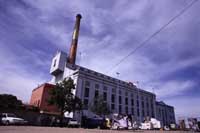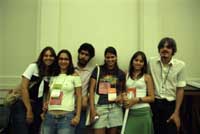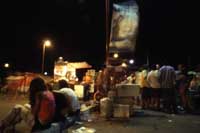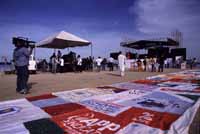 Other Worlds are Breathing 2005



A festival of films on alternatives
"We know what we are against; do we know what we are for?" It is with this question in mind that we started working on Other Worlds are Breathing 2005.
The urge to give fragments of answers to this question came when we were selecting films for the global film festival we organised for WSF 2004 in Mumbai. Most of the films we received then documented social tragedies, economic collapses, environmental disasters and injustice in its various forms. Very few explored alternatives for other worlds.
At that time, we decided to highlight the few that did, in a section called Other Worlds are Breathing. The overall film festival eventually took the name of that section; and the foreword to last year's brochure ended on a call for a film festival exploring alternatives in 2005. So here we are!
Other Worlds Are Breathing 2005 is an attempt to explore alternatives to neo-liberal, capitalistic globalisation through the medium of films. To curate this festival we had to first define the term alternatives. We have sifted through its various meanings and nuances to focus on that precise subsection that resonates our concern. And our concern is with the politics of change. Thus, this film festival is a search for those actual lived experiences that have attempted to delineate a different world.
While we accept that the other worlds we are dreaming of exist more in the realm of possibilities than in reality, we started the curation process with the belief that they do exist, albeit in bits and pieces. And that today there is an urgent need to draw these pieces together into a mosaic that can help our collective imagination to reflect, conceive and look for ways forward.
Therefore, Other Worlds are Breathing 2005 presents political, economic, social and cultural alternatives. 30 films, from 24 countries, organised into 10 sections, present a vast kaleidoscope of experiences and concerns. There are many differences between these films and yet something seems to tie them together - the breath of life, a flow of creative energy. And it is this common thread, impossible to articulate and more often than not, invisible, that we are trying to explore through this Film Festival.
This is a modest beginning, but a beginning nonetheless. We hope that these stories of hope, celebrations of people's power and determination will ignite our imaginations.
With your help, we aim to give Other Worlds are Breathing 2005 a chance to reach out to more people around the world, through the various social forums that will take place in 2005. Thus, more and more people will join in the search for alternatives, bringing the other worlds we are dreaming of a little closer.
Gargi Sen & Aurélie de Lalande
Festival Curators