the people behind transitpassengers


Aurélie de Lalande
Meeting people and sharing stories with them over endless cups of tea, coffee and pints of beer is what she likes most – and it has probably very little to do with her (long) years of communication studies.
Reacts –strongly- to pretty much anything and everything. Working for social and environmental justice in various parts of the globe did not lower the tendency.
Magic and poetry in daily life are sheer necessities and survival issues, which she also looks for in films when curating festivals.
Loves to see people laugh, dream, be touched, meet, react, get inspired. So whenever she gets a chance, she is a part of it.


Emma Corkhill
Searching led me from academics & theories, art & seeing to travels & contrasts. The search for answers has led to many more questions. So now I search for the right questions.
I work with project management, culture and politics. Breathe with art, discussion and exchanges.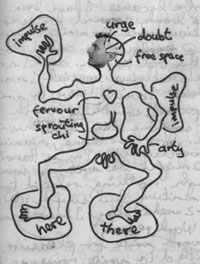 Hynek Bureš ['hi nek 'bureS]
Hynek m; [Def.] s.o. who prefers to be everywhere but is here; [Def.] divided; s.o. who lives under the impression of being divided; f.ex. night/day, grey/green, special/ordinary. [Charact.] back of the head filled w/ political economy, front of the head divided between international co-operation/development and art.
hynek [adj.] "he/she is very ~!" Def.a: self-assured and doubting at the same time; Def.b: s.o. madly full of vitality experiencing trouble to burst.
Bureš n; [Def.] s.o. whose origins are faint. [Charact.] Bohemian origins copulated at an early stage w/ Swiss precision. Overall, this incidence of uprooting has been interpreted positively by the psyche into present ability to travel, encounter, and appreciate.